Silencing the Noise Around IFTTT Enabled Hearing Aids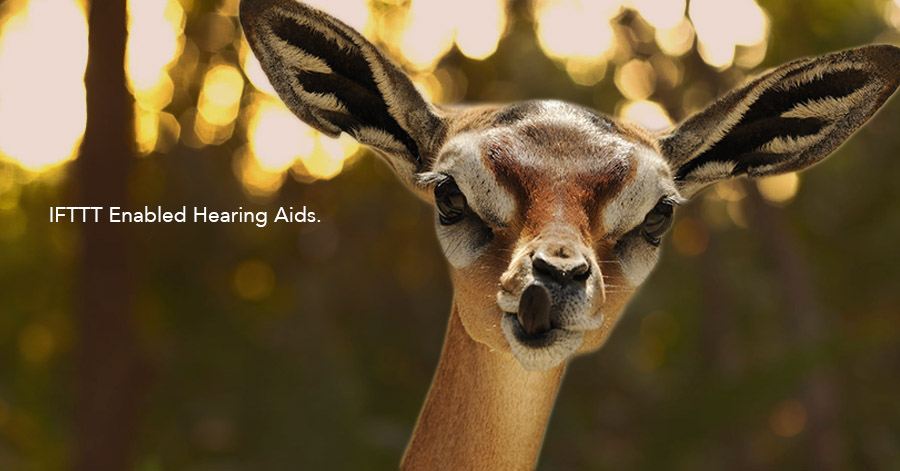 "If This Then That" or IFTTT is an cutting-edge third-party service that intelligently automates how devices communicate with each other. It's designed to simplify your life by connecting IFTTT enabled hearing aids to a growing list of other devices. Continue reading to learn more about this state-of-the-art technology.
How Does IFTTT Work?
As a free web-based technology, IFTTT enables you to create strings of simple conditional statements known as "recipes." Recipes are the rules you create to dictate how the connected devices communicate with each other.
An example of a recipe is if someone tags the user on Facebook, then the tagged photo will be added to a particular cloud-based archive in the cloud. Another example is if the IFTTT user comes within a certain perimeter of the connected home, then the lights should come on.
What Are IFTTT Enabled Hearing Aids?
One of the most innovative advancements in hearing aids is the Oticon Opn. It's the first hearing aid in the world that connects to the World Wide Web through IFTTT technology.
Users are able to connect to a vast range of IFTTT-enabled devices that are used in everyday life. The hearing aid connects to domestic lighting systems, door bells, and a myriad of other every day home appliances through recipes.
The Oticon Opn offers users a solution that empowers them to to use their hearing aid to do much more than amplify sounds. This hearing aid places the user in control of a quickly growing number of IFTTT-compatible services and products as they become readily available.
How Do IFTTT Hearing Aids Work?
IFTTT heating aids work by a simple process of "triggers" and "actions." When a condition or "trigger" occurs, you can program the device to perform a specific "action." For instance, if the battery is low, then the hearing aid should decrease the volume.
Currently, the Oticon Opn supports the following triggers: program change, connection lost, connection established, battery low, mute, and volume. It also supports the following actions: decrease volume, increase volume, set a program, and "play text to speech".
How to Get Started with IFTTT Hearing Aid?
Install the Oticon On App
After you have purchased your Oticon Opn from North Shore Hearing, the next step is to install the Oticon ON app. The app provides you with discreet remote control of your hearing aids.
It can also help you locate your hearing aids if you ever lose them. Most importantly, the app is your connection between the IFTTT service and your hearing aid.
The Oticon ON app is your key to unlocking the power of the Internet of Things. IFTTT is a continually expanding growing internet-based service. With the Oticon On app and IFTTT, you will be able to integrate your hearing solutions with a long list of online solutions and products, such as:
Doorbell
Home lighting
Mobile phone
Home alarm system
And more
Create Your Oticon ON Account
Creating an Oticon ON account is simple. Just use the Oticon ON app to go through the process. This account will allow you to connect to the IFTTT service and truly unleash the full potential of your hearing aids.
Visit IFTTT to Explore More
After you have created your account with the Oticon ON app, the final step is to visit the IFTTT website. While you are there, explore the endless possibilities this cutting-edge technology offers. You can find inspiration and let your imagination run wild at the possibilities of IFTTT and your Oticon ON.
How to Create a Recipe on IFTTT?
Creating an IFTTT recipe is relatively straightforward. Log into the IFTTT website and choose create a recipe. If you are looking for inspiration, check out the sample guides.
Connect with North Shore Hearing for Hearing Aids
Today, hearing aids are continually evolving. From innovative brain hearing technology to IFTTT enabled hearing aids, it's one of the most exciting periods in the industry. With today's modern hearing aids, you can enjoy cutting-edge technology, bolstered sound quality, and a high level of discretion.
However, taking advantage of these new features starts with a simple hearing exam. After your exam, your audiologist will explain each of your options and the most viable solutions to improve your hearing loss.
Contact the experts at North Shore Hearing today to learn more about IFTTT enabled hearing aids or to schedule an appointment.